Step by step to sustainable future
Friday 29th of January 2016
| | | |
| --- | --- | --- |
| Turkey meeting | | |
Written by Juliusz
Tuesday, 28 September 2010 10:16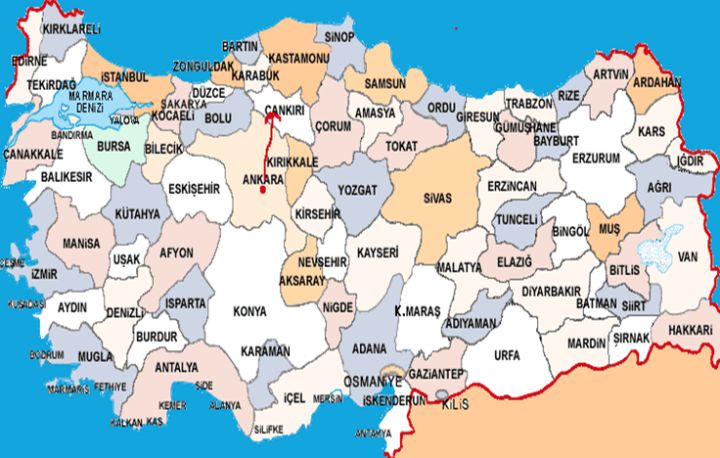 Power Point Presentation - How to reach to Çankırı?, PPT 7MB
---
Schedule
Date

Activity

Time

13.03.2011(Sunday)

Meeting Polish team at the airport

Meeting Hungarian team at the airport

15.10

18:00

Dinner (Eyüpoğlu Restaurant)

20:00

14.03.2011(Monday)

Visiting Çankırı Museum with Polish and Hungarian teams

Lunch (Dostlar Konağı)

Visiting a primary school (Hungarian Polish teams)

10:00

12:30

14:00

Meeting Austrian and Belgium teams at the airport

16.05

Dinner ( Güven Restaurant)

19:30

Meeting Italian Team at the airport

20.55

15.03.2011(Tuesday)

Meeting at the hotel lobby

09:00

Meeting at school

Presenting the Project material

09:30-12:00

Lunch(free)

12:30-14:00

Visiting salt cave

14:30-17:30

Dinner (Büyük Otel)

19:30

Teachers Meeting

16.03.2011(Wednesday)

Meeting at the hotel lobby

09:30

Visiting Çankırı Castle, Çivitçioğlu Medrese, Blue Mosque Taşmescit,

Lunch (Güven)

12:30-14:00

Visiting Çamaşırhane, Yaranevi, Araştırma Merkezi

Departure of Hungarian Team to Ankara

17:00

Departure of Hungarian Team to Istanbul

20:30

Free Time

17:00-18:00

Dinner (Büyük Otel)

18:30

Yaran Show

20:30

17.03.2011 (Thursday)

Meeting at the hotel lobby

08:00

Korgun (Visiting a factory)

08:30-10:00

Ilgaz Mountain(Skiing Centre) transportation+lunch (Ilgaz Mountain Resort Hotel)

12:00-16:30

Free time at hotel

18:00-19:30

Dinner (Büyük Otel- Live Music)

19:30-21:00

18.03.2011(Friday)

Departure of Polish and Italian Teams for Kapadokia

Meeting at the hotel lobby

10:00

Visit to Hazımiye Medresesi

10:00-12:00

Lunch (Büyük Otel)(Light menu)

12:30-13:30

Departure of Belgium Teams

14:00

Free Time activites

14:30

Dinner (Büyük Otel)

19.03.2011(Saturday)

Departure of Austrian Teams

10:30
---
Participants:
Austria:
Teachers: Gabriele Stoeger, Angela Schnabl
Students: Lejla Burzic, Kam Derya, Esra Balkan
Belgium:
Teachers: Linda Bourguillioen, F.Chris Van Cauwenberg
Students: Nicky METTEPENNINGEN, Sylvie ROOMS, Kendra DE SMEDT, Stephanie SCHOORS
Hungary:
Teachers: Csengeri Mária, headmistress, dr Jáki Katalin, Boros Annamári
Students: Szili Vivien, Semsák Liza
Italy:
Teachers: Antonio De Filippis, Anna Russo and Carolina De Luca
Students: Serena Mascolo, Roberta Perta, Vincenzo De Rogatis and Tommaso Rispoli
Poland:
Teachers: Juliusz Maszloch, Marian Makuch, Andrzej Ryczkiewicz
Students: Łukasz 'Johnnie' Wolski, Filip Michalski
Turkey:
Teachers: Mustafa Cesaretli, Hülya Alp
Students: Metin Çiçek, Yusuf Ünal, Ayşenur Türkoğlu, Gözde Kadıoğlu, Özlem Aslanbaş, Hakan Dilbaz, Oğuz Kendir, Gülsüm Derviş, Gülşen Topçu, Kübra Ahlat
Last Updated on Tuesday, 01 March 2011 08:58
Powered by Joomla!. Designed by: Free Joomla Theme, top hosts. Valid XHTML and CSS.