Step by step to sustainable future
Friday 29th of January 2016
| | | |
| --- | --- | --- |
| Poland 4th meeting | | |
Written by Juliusz
Wednesday, 17 March 2010 12:08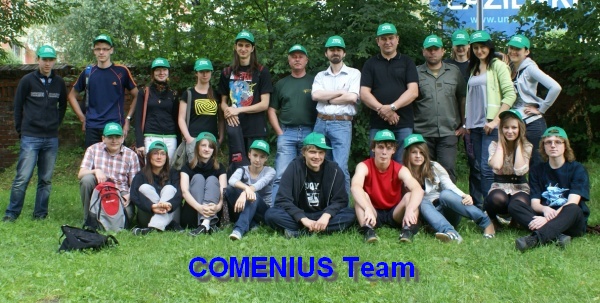 ---
Useful links:
---
Auschwitz I and Auschwitz II-Birkenau camps
---
Welcome to Żywiec! YouTube video:
---
Sustainable tourism in Żywiecczyzna Region. YouTube video:
---
4th Comenius Meeting in Poland, regulations:

The Guesthouse (GH) 'Pod Weską'

Only authorised persons (project participants) are allowed to stay at the GH, there is no possibility to invite any strangers.
The silence of the night starts at 11 p.m.
All the guests are obliged to carry out the GH's staff instructions, especially to keep the rooms clean.
The guests bear all financial responsibility for damages.
It is forbidden to use the swimming pool under the influence of alcohol.
Smoking only in marked places.

Death Camp Auschwitz-Birkenau

The bus is leaving the GH at the appointed hour: groups that miss the bus, will stay at the GH and will bear the cost of the entrance fee to the museum.
The participants are visiting the camp in guided groups.
Inside the camp you must keep countenance and respect towards the memory of the murdered people.
Do not use expression 'Polish concentration camp' – the camp was established and ran by Germans in occupied Poland and people from the whole Europe, especially Polish and Jews, were murdered here.
Time for reflection is planned after the visiting and no entertainment party will be organized that day.

National Park 'Mount Babia'

The participants will be divided into two groups. Group A will go to the mountain shelter by the easy route, no experience is required. Group B will be formed from the ones of good physical condition and suitable hiking gear.
Crossing time from the Krowiarki Pass to the Markowe Szczawiny Mountain Shelter is: 2h for the Group A and 4h for the Group B.
Both Groups are meeting in the shelter. The return way to the bus will last 2h.
You will be in the National Park which is rich in flora and fauna – rare species of animals (bear, wolf, lynx, yeti) and plants are under strict protection and for your own safety you should obey the rules:
Under no circumstances should you leave the marked path.
No music instruments or equipment is allowed – do not make a noise.
Carry out the leaders instructions at all times.
Because of the unexpected weather changes such as sudden fall down the temperature, strong wind, rainfalls, fog, thunder storms (esp. Group B) you must be well equipped with suitable clothes (e.g. rain coats), comfortable hiking boots, cap, backpack, food, mobile phone (switch it off during the storm), flashlight. The guides are equipped with the first aid sets. Emergency numbers: 112 (international), 985 or +48 601 100 300 (GOPR – Volunteer Mountain Rescue Service).
You must not destroy the flora or taste the fruits – some of them are poisonous.
When passing other tourists on the path say 'dzień dobry' (the older ones) or 'cześć' (of the same age) – it is very nice and common.
Stream water fits to drink but it has magic attributes: a one who drink water from Szumiący Potok (the Murmuring Stream) will come back to the Mount Babia at least once in his/her life…
---
Schedule:
Monday, 13.09.2010

7:00-8:00

Breakfast

9:00

Departure to the Town Hall

9:45

Town Hall

Meeting with the Mayor

10:45

Sight-seeing Żywiec

Guided tour

12:00

Meeting in school

Showing presentations

14:40

Lunch

Offered by school

15:30–17:00

Free time

Sustainable shopping

17:00

Departure to Korbielów

18:30-19:00

Supper

19:00-20:00

Teachers meeting

Organisational affairs

20:00-23:00

Karaoke and disco party

Music from the 6 countries

Tuesday, 14.09.2010

8:00-9:00

Breakfast

9:30

Departure to the Mount Żar

Sustainable Power Plant

13:30

Departure to the Auschwitz Camp

15:30

Visiting the camp

Lesson of history, Guided tour

18:30

Departure to Korbielów

20:00-20:30

Supper

20:45-22:45

Filmshow

Lesson of history, part II

Wednesday, 15.09.2010

6:00-6:45

Breakfast

7:00

Departure to Kraków and Wieliczka

9:00

Wawel Castle

10:30

Sustainable walking to the Main Square

13:00

Departure to the Wieliczka Salt Mine

14:20

Visiting the Mine

Guided tour

17:30

Departure to Korbielów

20:00

Supper

20:30

Sustainable rest

Swimming pool

Thursday, 16.09.2010

6:30-7:30

Breakfast

8:00

Departure to the Krowiarki Pass

9:15

Hiking Mount Babia and Markowe Szczawiny

Ecological and educational path

13:15

Meeting in Markowe Szczawiny

13:30

Leaving for the Krowiarki Pass

15:30

Departure to Korbielów

17:00

Supper

19:05

Farewell meeting

Barbecue with the folk band

Friday, 17.09.2010

Departure :(
---
Participants:

Austria
Teachers: Gabriele Stoeger, Angela Schnabl
Students: Sandra Nadymacek, Stefan Dinh, Tamara Dogan, Moni Singh, Tatjana Madl

Belgium
Teachers: Hiel Anne-Marie, Van Keer Anne, Poppe Els
Students: Bussens Lahja, Maes Robin, De Bock Juan-Carlos, Van Bogaert Tom

Hungary
Teacher: Csendes Tünde
Students: Matis Dóra, Neupor Márk, Trestyén Dóra, Szombath Ramóna, Nagy Anett, Homlok Bianka

Italy
Teachers: Antonio De Filippis, Giuseppe Bonetti, Carolina De Luca, Anna Russo, Incoronata Galasso
Students: Serena Mascolo, Giada Grifa, Roberta Perta, Vincenzo De Rogatis

Poland
Taechers: Juliusz Maszloch, Marian Makuch, Andrzej Ryczkiewicz
Students: Wolski Łukasz, Michalska Magdalena, Waligóra Magdalena, Orwat Ewelina, Twardysko Beata

Turkey
Teachers: Haldun Aksalman, Mustafa Cesaretli, Fatih Kartal
---
Last Updated on Thursday, 09 September 2010 20:49
Powered by Joomla!. Designed by: Free Joomla Theme, top hosts. Valid XHTML and CSS.