Step by step to sustainable future
Friday 29th of January 2016
| | | |
| --- | --- | --- |
| About our project | | |
Written by Juliusz
Saturday, 12 September 2009 17:58
Project financed by the European Union
THE AIM of the project is to raise awareness among many people from different countries, cultures, traditions, and ways of life about the environment and the products we use. 

In the first year of the project we want to focus on positive aspects and problems of the environment in the schools' local areas. 
In the second year of the project we will concentrate on sustainable and responsible consumption. 

As a first step the students will identify the environmental problems and then look out for ways to solve them. They will create solutions which may be used in every partner school.

Young people, by being brought into contact with environmental problems and different ways of consumption can learn a lot from each other. Students will use information and communication technologies and English as working media. Local and regional institutions will also be involved in the project. These institutions will be chosen due to the progress of the project.

Throughout this project all people involved will experience that we live in different cultures and are all together responsible for acting in a way which meets the needs of the present without compromising the ability of future generations to meet their own needs.

PARTNERS:

Austria - Bundeshandelsakademie Wien11 - www.bhakwien11.at

Belgium - VRIJE HANDELSSCHOOL - www.handel.broeders.be

Hungary - Móra Ferenc Általános és Középiskola - www.moraferenciskola.hu

Italy - Istituto di Istruzione Secondaria Superiore "D. Fioritto" - www.istitutosuperiorefioritto.it

Turkey - Çankırı 80.YIL CUMHURİYET LİSESİ - www.cankiricumhuriyetlisesi.k12.tr

Poland – I Liceum Ogólnokształcące im. M. Kopernika w Żywcu – www.lo-zywiec.pl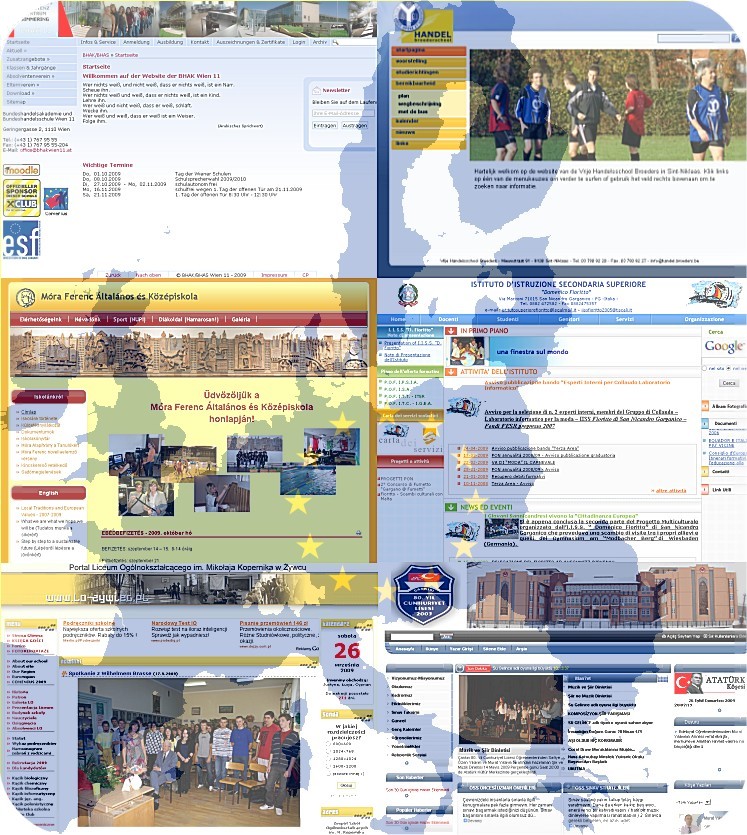 OBJECTIVES OF THE PARTNERSHIP:

- to know about regional precautions to protect environment
- to raise consciousness about environmental problems among students, staff and local people
- to make students aware of the issues related to sustainable consumption
- to make the local community aware of the value of the things they buy and use
- to broaden every participant's horizon which will promote the European dimension in the curriculum
- to give opportunities for students to understand European dimension and citizenship 
- to develop knowledge and understanding among young people and educational staff of the diversity of European cultures and languages and its value
- to motivate students and staff to learn and use foreign languages
- to encourage students to use ICT and support the development of innovative ICT-based content
- to enable students work in groups and raise consciousness about the benefit of cooperation
- to establish contacts with companies, organizations and other local institutions dealing with the environment and/or consumption
- to increase the volume of mobility involving students and educational staff in partner countries
- to improve personal and social skills of the students and teachers

SUBJECTS AND PROBLEMS WE INTEND TO ADDRESS:

- the link between ecology and economy and environmental education and education for sustainable development
- alarming growth of environmental problems
- the lack of awareness of environmental problems among local communities 
- not paying attention to what people buy and how products are made
- low level of awareness of the local community concerning the value of the things they use
- the importance of learning a foreign language
- anxiety about using foreign language in speaking and writing
- ICT skills improvement
- improvement of ICT based lessons
- monotony of educational programme

APPROACH TO TAKE TO ACHIEVE OUR OBJECTIVES:

- This project is totally student entered. 
- They will do research. 
- They will collect data and determine the problems and then they will try to find solutions to the problems. 
- They will communicate with partner students by using ICT, in this way they will improve their ICT skills and foreign language skills. 
- They will create posters and banners to promote their solutions. 
- They will use questionnaires to check the awareness of local people concerning environmental problems and sustainable consumption.
- They will make contacts with other institutions in their local community.
- They will make exhibitions and regularly update the information board to publicize their ideas.
- They will take photos and make videos to document their activities.
- They will write poems to look at the environmental problems in a creative way.
- Students and staff will meet to observe different educational policies at different atmosphere. 



Last Updated on Monday, 19 October 2009 12:09
Powered by Joomla!. Designed by: Free Joomla Theme, top hosts. Valid XHTML and CSS.